"If you do what you always did you will always get what you always got."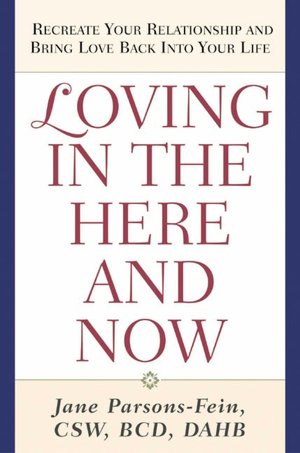 Recreate Your Relationship and Bring Love Back into Your life (a Tarcher/Penguin hardcover, January 26,2004, $24.95 US/$37.50 Canada) by psychotherapist Jane Parsons–Fein will help you become aware of when and why those negative trances occur and teach you and your partner how to communicate and connect in the present, without the ghosts of the past. Influenced by the work of Milton Erickson, one of the pioneers of medical hypnosis, Parson-Fein advocates "everyday self-hypnosis" techniques to shift negative trances into positive ones. The result is a unique manual for true healing and renewed intimacy in relationships.
When couples "fall" in love they can tune in to each other on the same early frequencies developed with their parents and siblings. When couples reactivate the early unconscious feelings, behavior, and attitudes, they shift into their original family trances. Both partners helplessly try to protect their vulnerability by repetitively involving their partner in their family consciousness in order to fulfill old unfulfilled needs. Thus these repetitive toxic patterns begin to build even though they are never effective. Many schools of couples therapy have similar understanding. I think hypnosis has an advantage because it moves quickly from the thinking left brain to the feeling right brain from analyzing and theorizing to the somatic see/hear/feel experiencing, which recent research has demonstrated can bring about changes in brain chemistry.
This makes it possible for couples to experience each other in new ways.
Working with couples I always remember the statement of William Masters, pioneer research in human sexuality, "Love is the exchange of vulnerability."
Reviews from Amazon:
This is an excellent book that presents a unique way of understanding oneself and relationships. Parsons-Fein explains how, without realizing it, we are shifting states of awareness throughout the day, and that everyday we naturally move in and out of trance states many of which are positive – some of our best and most creative moments. [wpex Read more] She explains therapeutic hypnosis, everyday trance, and the unconscious in terms that are down-to-earth and understandable. This idea that we are naturally shifting in and out of trance states I found to be extremely interesting, but there is a lot more in this book. The author explains how painful relationship patterns are most productively understood as negative trance states that were initially formed and learned in childhood. She teaches the reader to recognize these negative trance reactions and painful patterns of relating when they are happening in current relationships. She provides methods and guidance to do the detective work necessary in order to discover the childhood experiences and influences at the root of these painful states. Most importantly, she teaches self-hypnosis methods by which you can, with practice, learn to shift out of these negative trance reactions, bypass them in the future, and discover new and more joyful ways of relating with your partner. She also teaches about positive, creative, trance and how it can be used to enhance intimacy, sexuality, self-exploration and healing. The self-hypnosis exercises do take some practice, and the questionnaires do take work and time, but doing them takes the value of the book to a whole other level. Also, the tone of the writing is suffused with love, compassion, and hopefulness about people and their capacity to grow. In short, there is a lot in this book, and I continue to get a lot out of it. I highly recommend it not only to people who want to improve their relationships but to people who are curious about themselves. [/wpex]
If you do even half of the exercises in this book with your wife (or husband or girlfriend or sig. other) you will feel a huge change. [wpex Read more]Just learning to untie the relationship knots by "shifting out of the family trance" is enough to open your relationship up and move past those big dumb blockages we get stuck in. My wife is halfway through this book, and we've done the exercises for five nights, and we really turned a corner. Hopefully it'll stick. (We skipped some of the stuff that's too deep.) Last time we were in therapy we just yelled at each other. This feels much more healthy, not to mention the money we're saving![/wpex]
With exercises to do alone or with your partner, case histories, questionnaires, and more, Loving in the Here and Now explains:
How stored memories can make you repeat your (unhappy) past, and how you can learn to replace those negative imprints with positive imprints.
How to understand your family trance and dismantle old family patterns.
How to understand — and use — hypnotic experience in every day living.
How to identify you and your partner's hot buttons, what triggers your respective negative trances and how to shift out of those painful feelings.
How to get in touch with your anger (and figure out if you are fighting your battles with the wrong person).
How to stop being on communication "automatic pilot" with your partner and achieve a state where your words and actions match your true (and present-based) feelings.
With special sections on two very important hot-button issues — money and sex — Loving in the Here and Now is a powerful guidebook that will leave readers nodding in recognition, crying, laughing and feeling hope for the first time in years about themselves and their partners. For fans of Getting the Love You Want and Relationship Rescue, Loving in the Here and Now takes communication, connection, and healing one step further — and will help couples who fell in love to grow in love, beyond the past and into a lasting future.
See what Janes colleagues have to say about the book.
"Loving in the Here and Now" is available for purchase on Amazon
Frequently Asked Questions about the Loving in the Here and Now
LOVING IN THE HERE AND NOW:
Recreate Your Relationship
And Bring Love Back Into Your Life
By Jane Parsons-Fein, CSW, BCD, DAHB
January 26,2004
ISBN: 1-58542-300-9
$ 24.95 U.S./$37.50 Canada